(please keep this info on these forums, I have no interest in continuing to enable Clapalong's incompetence)
1) Two new maps: Eastern and Western Han Empire (in chinese version) (20 NPC's each map)
a) Recruitables (all on second map):
Huo Qubing (7th NPC, cav, continuous sneak raid), Li Guang (13th NPC, sneak raid mech), Liu Che (160 map boss, pikeman, morale absorption)
b) New Dungeon for Lost Temple
2) New Development area
a) Will appear randomly in one of 4 cities (Miletus, Macedonian, Nafplion, and Thrace)
b) Can choose different types of buildings to construct, increasing difficulty (higher cost, longer build time), yields greater drachs (see below)
c) Leaving the city or getting sent home will result in loss of building costs
Will show up as last button when selecting your city: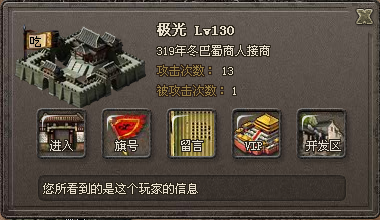 Will take you to interface where you can select constructions and view in progress constructions:
3) Outer city
(see Outer City post)
a) Must be lvl 101 or higher
b) Start with 10 workers, 3 buildings (see below central building and two buildings immediately to the left)
c) 1000 "raw stones" converts to base ore (automatically done by system)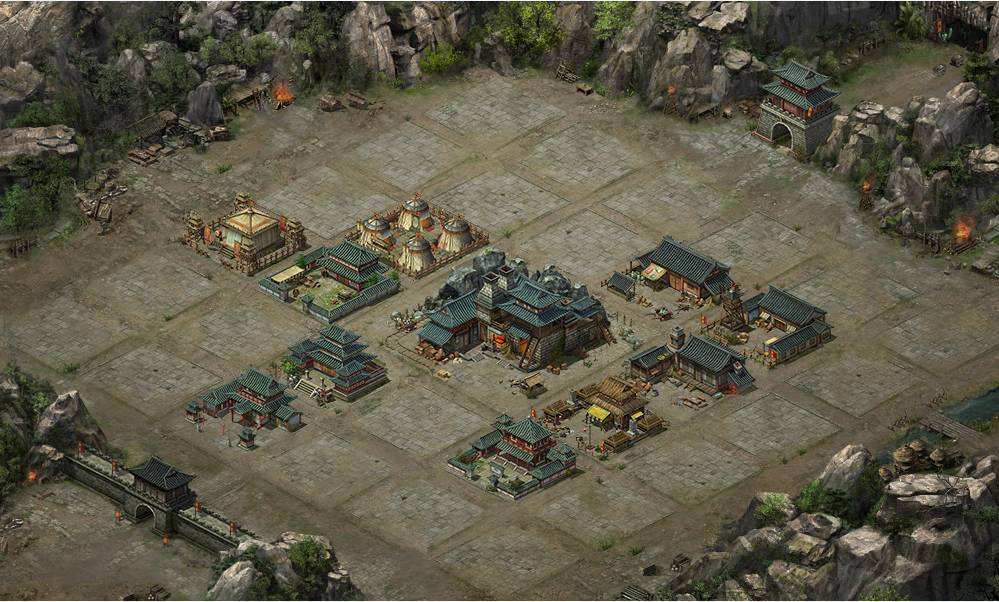 4) Gem Mines
a) Occupation time of 4 hours
b) If pillaged, will lose half of accumulated gems to pillager
c) Hoarding available
d) Can purchase ability to share occupation with faction members for gold (must be purchased each time)
5) Supreme Challenge (new world only)
a) Consumes div, but does not affect CD
b) Initial defeat of NPC will receive coffer
c) Repeated hits will result in accumulation of points (see PvE Additions post)
6) Add 3 of the 7 day activities (maybe we won't get)
a) Equipment enhancement (drachs consumed divided by level determines points) (New and Old World)
b) Defense accumulation from pvp (New world only)
c) Gem consumption- more gems used more points (New world only)
d) In new world top 3 in activity will receive gems instead of drachs: #1 10 gems, #2 8 gems, #3 6 gems
7) Purple Arms
a) Drops from NPC's in 160 maps
b) Grade 5 red converts to grade 12 purple, grade 6 red converts to grade 20 purple (fortitude maintained)
c) Max grade = 50
8) New World Optimizations
a) If city surrounded on 3 sides or 4, damage caused by attacker from surrounded city will be increased
b) Trading system optimized
9) New Tech: Heroism
a) increase attack damage (offensive elixir)
b) First level available at lvl 122
10) New Aide Function: Auto-NPC hit
a) Enter number of consecutive hits on select NPC
11) New Banquet System
(see Additional features post)
a) Available at lvl 80, open at specific times and can form teams
b) Pay laurels or drachs (same for all team members), to acquire divs and drachs
12) Interface Optimizations
a) Show arms grades in BRs
b) Simplify trade animation
13) Other Optimizations
a) If group leader is attacking a legion for the first time, everyone in the group will not consume a div (encourages helping others in virgin runs for legions)
b) Building destruction changed (Defender Lvl 110 to lvl 140 building level demolished 1-3, Defender lvl 140+ demolish 1-5 levels)
c) Legion modifications: group leader can be booted, if all members of legion group inactive, group gets moved to bottom of the list on legion assembly screen
d) Number of attacks/defenses (new area) is no longer reset daily, will be reset after being sent back to capital
e) Continuous attack beyond "fatigue threshold" will result in attack/defense penalty
f) Changes to gem return for melting
g) Trading price peak time changed to 16:00
h) Mechanism for main quest changed (i.e. you don't have to continuously hold 20 cities for everyone to collect quest)
---
as a disclaimer this does not include intermediate updates between 160 and 170 which will likely be included in our full version update. I will add those when i have some free time since will need to sift through changelogs to find them.